The reality TV highlight of the week is the return of one of the early reality shows and stars: Tyra Banks and America's Next Top Model. Yes, two years after a "reinvented," America's Next Top Model is back for cycle 24—and so is its host and creator (VH1, Sept. 9, Tuesdays at 8).
The show no longer has an age limit, and will have Drag Race contestants Valentina, Katya, and Manila participating in one of the photo shoots. It will stick with the same judges, though.
Considering Tyra tired of the show less than three years ago, is it too soon to bring it back? Or will this recapture the magic of the original, before the gimmicks?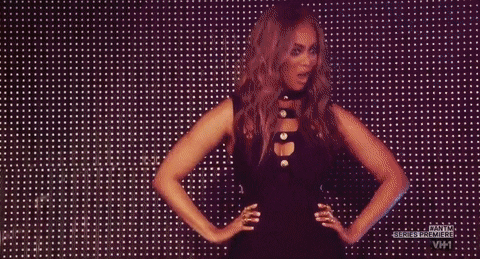 Making a Model with Yolanda Hadid kicks off two days later (Lifetime, Jan. 11, Thursdays at 10), following six aspiring models who will stay on the show all season, winning weekly prizes and trying to secure a modeling contract.
There months after it was supposed to debut, Undercover High (A&E, Jan. 9, Tuesdays at 10) sends seven 20-somethings back to high school to pretend to be high school kids at Highland Park High School in Topeka, Kansas.
Also returning this week:
The classic Antiques Roadshow (PBS, Jan. 8, Mondays at 8)
Ink Master, which is back on Spike, the network will soon change its name to Paramount (Jan. 9, Tuesdays at 10). This season, contestants will being mentored by three previous contestants.
Everybody Loves Raymond creator Phil Rosenthal's PBS show I'll Have What Phil's Having is back, but on Netflix and with a new name: Somebody Feed Phil (Netflix, Jan. 12).  
My 600-lb Life (TLC, Jan. 10, Wednesdays at 8) which follows people whose obesity is killing them. It's paired with Family by the Ton (TLC, Jan. 10, Wednesdays at 10) which follows three cousins who together weigh an actual ton.
Growing Up Hip Hop Atlanta (WE tv, Jan. 11, Thursdays at 9), which follows the kids of hip-hop stars.
WE tv continues had ratings success with its exploitative and gross Mama June: From Not to Hot (WE tv, Jan. 12, Fridays at 9), so it's back for season two.
And there are a handful of other shows debuting. They include Love After Lockup (WE tv, Jan. 12, Fridays at 10), which follows six couples, one of whom just got out of prison, as they get ready to get married;  How the Universe Works (Science, Jan. 9, Tuesdays at 10), which explores the outer space; and Black Card Revoked (BET, Jan. 10, Wednesdays at 10), a game show that says it "will test players' knowledge of the nuances of the African American perspective—from pop culture milestones and entertainment moments to historical facts and politics."
Two specials, three documentaries, and one marathon
In addition to all those shows, here are shows airing this week only:
The series Fit to Fat to Fit, which aired its first season on A&E in 2016, moves to Lifetime but will air all six episodes tonight (Lifetime, 6 p.m. to midnight), burning off episodes like the participants are burning off fat.
The classic 1980s game show Press Your Luck—no whammys!—once had a contestant who figured out that the game board wasn't random, and used that to win more than $100,000 in cash and prizes on the show. Cover Story: The Press Your Luck Scandal (GSN, Jan. 14 at 7 p.m.), which "will explore the story of Michael Larson, an air conditioning repairman from Ohio who cracked the game board algorithm" and how he did it. The special will be followed the rebroadcasts of the two episodes.
David Bowie: The Last Five Years (HBO, Jan. 8, at 8) profiles the final years of David Bowie, who died two years ago.
Unrest (PBS, Jan. 8) is about chronic fatigue syndrome, through the eyes of filmmaker Jennifer Brea.
Inside the Actors Studio, returns to feature Ted Danson (Bravo, Thursday, Jan. 11, at 8).
On the 65th anniversary of The Queen of England's coronation, the queen will watch footage of the day and reflect on it, and the special will also look at "the compelling story of the Crown Jewels and the ancient ceremony for which they are used." It's a BBC and Australian Broadcasting Corporation special that will air in the U.S.  on Smithsonian Channel (Jan. 14 at 8).