For an episode that had a shower of twists and ended with the dominant alliance sticking together making the obvious choice and voting out a worthy competitor and keeping an annoying jerk around, this was Survivor Heroes vs. Healers vs. Hustlers strongest episode yet.
It started with a somewhat flat reward challenge that had a decent twist: two randomly drawn teams, with the odd person out automatically winning reward, instead of getting screwed, as the show has done before.
When the reward challenge's spaghetti twist arrived, that's when I really rolled my eyes. Making them share a plate of spaghetti and turning it into a quasi-temptation felt like something lesser shows do, not Survivor.
And by mandating everyone eat individually, Jeff Probst might has well have just added "BECAUSE WE'VE HIDDEN AN IDOL CLUE THERE WE ARE CLEVER."
Yet: Watching the gradual discovery of the clue, and the various ways people tried to hide it, was new and fascinating.
Cole dumped spaghetti onto a cloth napkin and awkwardly covered the plate; Ryan actually buried the plate in the woods.
Reading Stephen Fishbach's fascinating discussion of contestants' fear of breaking non-existent rules, because of the nature of the production environment, made me appreciate Ryan's move even more.
Of course, after they both saw and tried to conceal the clue, Ryan and Chrissy whispered about it while laying so close to Cole they were literally touching. "He's not that smart," Chrissy whispered. And Cole—who's not smart enough not to hog food and annoy everyone he's playing a social game with—was smart enough to know exactly what they were whispering about.
Cole and Joe dig themselves into holes
The real drama, however, came back at camp. There was lots of discussion of pants, as Ryan realized his opportunity to dig under the tribe flag came while Cole was peeing: "When Cole's literally caught with his pants down, I'm going to dig up this idol."
Ryan got the idol, stuck it in his pants, and then told Chrissy to cover up the hole, because why exactly? But that's when Cole returned from peeing, and darted over to push her aside and start to dig. Then Ben joined in, and then it was just a pile of writhing men digging for literally nothing at all.
This wonderfully entertaining scene culminated with Ryan watching that and saying, "I am standing there with the idol in my little pink shorts."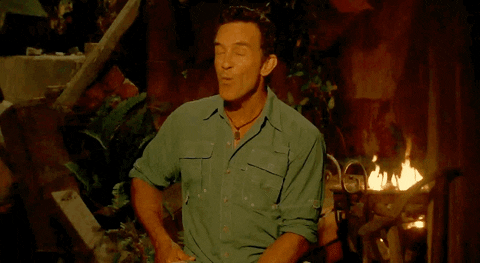 After some statue balancing, it was time to decide who to vote off besides immunity challenge winner Cole, who will live to see another three days of eating other people's food.
Joe decided it was time to play a made-up, vaguely-coherent lie. He claimed Ben was "going on swearing on your Marine," which is a barely comprehensible way of accusing Ben of lying and using the Marines as a way to get people to trust him. (Joe turned the Marines into a singular thing later, saying, "when someone swears on their Marine.")
That pissed off Ben—understandably so, and we didn't even need the repeat information about PTSD to understand his frustration.
"No reason to get amped up like that, dude," said Joe, this season's amped up like that dude.
I'm done with Joe, in the same way I'm done with Cole: they're playing sloppy games while being annoying, and there's just no use for that. So I was all in for people calling him out—and then voting him out, please?
"None of us want to listen to you anymore," Chrissy told Joe at Tribal Council.
But I think it was Ashley who had the perfect final word on Joe: "It's really hard to say if Joe is really good at playing this game or if he's just really good at being very annoying." (Joe agreed: "I think it's a combination of both.")
But it wasn't the final word because Chrissy's and Ashley's alliance voted out Desi instead. To keep an annoying jerk around and vote out a worthy competitor makes logical sense, and is also endlessly frustrating, especially in a season that's been endlessly frustrating with its false starts and flat cast.
Though the vote had a tie and a revote, it was straightforward, and the most interesting part was Lauren playing her advantage and faking voting both times.
Lauren's advantage, which she discovered among the supply of nails, was to save her vote for next week, when she'll have two votes. (That Lauren played her advantage meant that Jeff Probst read just 10 votes before declaring a tie, but there were 11 people. Someone has to have noticed that, right? Please?)
I am intrigued by this twist because it involves a kind of gamble. Are you confident enough not to vote this week? What if you don't need the extra vote next week?
I like the idea so much that I'd love to see it as part of the game: Once during the game, every player has one opportunity to skip a vote and save it for the very next Tribal Council only. Do you play it to try to make the merge, or save it in case you do? Do you team up with a few people and turn yourselves into a dominant alliance by saving your votes?
Let's carry that twist into a future season, and make sure this season doesn't go to waste. Because with players like Joe and Cole still around, it's languishing even when there are pants idols and spaghetti clues.