"Are you worried that maybe something isn't going to go the way it usually goes?" Jeff Probst asked the newly merged cast, and I leapt up from my couch and screamed, Yes! Yes I am so worried the back half of the game is going to be like more of spinning the same ball in a circle.
Dr. Mike told Probst, "Season 35 of survior, you never know what's going to happen." If only!
That was the same Dr. Mike who later expressed genuine surprise that "everybody is playing the game," which is either an indication of his naivitey and/or self-delusion—or he, too, has sensed that this cast is failing to deliver.
There was more of a scramble than we're used to this season, but much of this episode's "strategy" talk resulted in me making this face: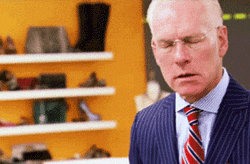 "I don't even think about that stuff, man," said a man playing Survivor, Cole, who didn't think about the consequences of eating other people's food and then not sharing fish he caught. I just can't with him.
Cole also thought it was only Ben who was annoyed by Cole's food-hogging, not everyone else on his tribe and many of us watching at home.
Ben and his original alliance's struggle to figure out who to vote for had them voting between Cole's obliviousness and Joe's wackiness, but instead they voted out Jessica. She's an easier, safer target, I suppose, but it seems mostly like she was targeted for her relationship with Cole, who escapes any consequence of his dunderheadedness.
Chrissy, who was the other target, basically asked to be made into one by talking strategy with Ben at the merge feast, insisting that the wind made it difficult for anyone near her to here. But wouldn't talking quietly to a potential ally also raise flags? Wait, never mind, I forgot which cast I'm talking about.
Ryan—who's season 35's version of a master strategist in the same way that a sprig of parsley is the star of a plate of diner food—really made me Tim Gunn when he said something about how one vote will determine who's in control and how the rest of the season goes.
Maybe 15 years ago, but that isn't the game we've been watching for years. What happened to coalitions? Or game theory? Or anything interesting?
That said, there ultimately was a very old-school post-merge alliance: the original heroes and hustlers teamed up against the healers, who had more numbers than the other two.
At Tribal Council, Joe pulled out his idol, because he's Joe, and then played it anyway, which seems amateurish, since he got zero votes, since the alliance basically planned for that very scenario, since Joe is about as subtle as Jeff Probst narrating a challenge with balls.
Of course I'd be mocking Joe if they voted him out, but showing the idol seems like a strategy to make sure everyone doesn't vote for you, at least not until the next Tribal Council.
Outback to the rescue
There were two true surprises this episode:
The merged tribe members all received their bathing suits, so no more walking around in revealing underwear. Alas.
Product placement has returned to Survivor, in the form of an Outback Steakhouse-themed merge feast. Jeff Probst's line readings of Outback Steakhouse marketing copy were as comical and discordant as ever. He became the menu for a few wonderful minutes.
While Survivor once had everything from toilet paper rewards to cars as prizes, it has mostly been devoid of any product integration. As much as product integration can get in the way, I've read the show's lack of in-game sponsors as a bad sign. If it can't attract sponsors who want their brands integrated into the episodes, what does that mean?
That kind of sponsorship may be annoying, but helps finance the competition shows we love, such as Top Chef, Project Runway, and RuPaul's Drag Race.
So I was excited that Survivor had once again found a sponsor for product integration. Money for Survivor = more Survivor, and that's what I want. Just maybe not much more of this season.