Project Runway 16 has reached its finale, and Tim Gunn reached a point at which his vocabulary and usually exuberant facial expressions failed him. But we got some wonderfully subdued reactions—which I turned into GIFs, because the world may need them.
That happened during his home visit with Kentaro Kameyama, who said his collection was inspired by classical music. He played Tim Gunn a song on the piano, and when he finished, Tim asked about it.
"What gave you this idea?" Tim asked.
"Well, I found a dead cat on the street," Kentaro said, only getting started. "So, after I buried the cat, I put my ear into the ground, and this is the kind of sound I heard."
Tim just looked at him.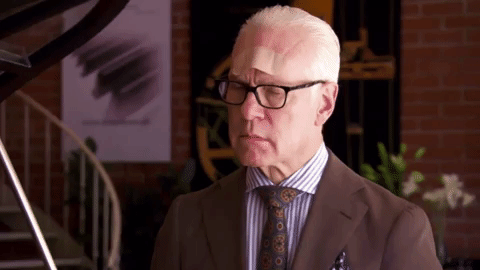 Kentaro said, "Yeah."
Tim looked some more, and then nodded. What else do you do with that information besides what Tim is doing above?
"All right," he finally said. "Wonderful."
I was worried blood would start coming out of the bandage on Tim's head—he'd fallen and needed stitches—because I was pretty sure his head exploded, as did mine.
But should you ever need to insist something horrifying is wonderful, here you go: